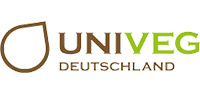 With a turnover of ca. 1 billion euros and over 1,000 employees, Univeg Deutschland GmbH is one of the key players in the fresh fruit and vegetables industry. The company's headquarter is located in Bremen while a widereaching network of 14 trade and service centres delivers fresh produce daily to customers across the whole of Germany and Austria. As part of the UNIVEG Group – a worldwide specialist in production, logistics, packing, and distribution of fresh produce – Univeg Deutschland GmbH is specialized in ripening, packing, storing and picking of fresh goods with a focus on the trade in bananas. Fresh fruits and vegetables are purchased from 123 countries across the globe with the aid of purchasing offices and staff located directly at the producers. The goods are stored in modern, temperate high bay warehouses and are delivered upon order to retailers across the country.
As Univeg Deutschland GmbH is currently the leading retail trade partner for daily fresh produce in Germany it is a perfect fit for taking part in FRESH-DEMO, in particular regarding the case studies. UNIVEG-DE's participation allows the company to be among the first logistics companies to integrate the FRESH-DEMO technology into their facilities at the end of the post-harvest food supply chain (distribution/storage centre as well as transport to supermarket) thereby giving them a competitive advantage in the trade market for fresh produce as well as increasing their customer's satisfaction. The possibility to validate the system's benefits in terms of increased shelf life, hygienic properties as well as waste reduction of fruit/vegetables in an industrial environment is essential in achieving the technology's full market potential in the future.
Main tasks in the project:
Univeg Deutschland GmbH will be hosting two out of the five case studies within FRESH-DEMO. Subsequently, the demonstration trials will take place here in order to investigate the technical, ecological and economic effectiveness of the proposed humidification/disinfection technique. Univeg Deutschland GmbH is responsible for daily handling of the prototypes integrated into the standard production process, will document the experiences withdrawn from the daily use, and will organize a demonstration workshop. Univeg Deutschland GmbH will further substantially contribute to WP1, where customer expectations in terms of product quality, system performance, system maintenance, costs etc. will be adequately defined in order to develop the FRESH-DEMO prototype systems exactly towards customer's needs. Finally, UNIVEG-DE will provide site-specific data (e.g. electricity consumption or transportation distances) for the ecologic and economic evaluation of the FRESH-DEMO performance from a lifecycle perspective. All information gained will allow the technology providers (Contronics Engineering BV, Bioazul S.L., RFT Frischetechnik GmbH and POLYPAN GROUP SA) to develop a marketable product fitting customers' expectations after the project finishes.