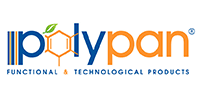 POLYPAN GROUP SA was established in the 2003 by Pan Polychronopoulos to continue - under a new company name - the same activities since 1977, namely providing functional, innovative and high quality raw materials, semi-finished products as well as machinery for food and other industries in Greece and the Balkan region.
POLYPAN GROUP SA imports and distributes raw materials and food ingredients for the food industry (e.g. meat processing industries, milk & dairy industries, bakery and bakery premix industries), the agricultural sector ("green technology" products for post-harvest treatment of fruit & vegetables & natural and eco-friendly products for pre-harvest treatment), as well as additives for the construction materials industry (paints, etc.). The company cooperates with various raw-material producers and supplies products to the Greek market. However, even though the production is outsourced, development and optimization of the products regularly takes place internally within POLYPAN GROUP SA's large research facilities. POLYPAN GROUP SA has set up an R&D Department within the company that develops customizable solutions for its customers. Through intense cooperation with Greek Universities and its owned lab facilities in the company, POLYPAN GROUP SA develops formulas / technical solutions for solving issues that supermarkets/farmers/food industries face. Among other innovations POLYPAN is working on "Phyto" natural disinfectants based on synergistic formulations of botanical extracts, flavonoids, and natural fruit acids, with all ingredients being naturally derived, GMO free, and come from self-sustaining crop sources. The resulting blends can be used in a wide range of applications including food, agriculture and hard surface decontamination.
Since POLYPAN has been actively working in fruit and vegetable decontamination for many years and has expert knowledge in developing formulas of natural organic sanitizers, the company is perfectly capable of developing and optimizing their available natural decontaminants to fit the requirements and needs of the FRESH-DEMO technology for various fruits and vegetables, thereby achieving optimal performance of the system. The sanitizers to be used within the humidification/sanitization technology of FRESH-DEMO will be optimized by POLYPAN to reach high decontamination rates of fresh fruits and vegetables, and to be fully compatible with the ultrasonic humidification system (no corrosion, etc.) - thereby enabling the whole FRESH-DEMO system to reach its maximum effectiveness and achieve its market potential.
Main tasks in the project:
As a technology provider, POLYPAN GROUP SA will determine the synthesis/composition of the natural sanitizers which will be used in combination with the ultrasonic humidification module. The suggested dosage of use of the natural sanitizers will be optimized according to each application both vertically (Post-harvest – Storage – Retail) as well as horizontally (type of fresh food, climatic conditions, etc.). POLYPAN GROUP SA will assist ttz Bremerhaven in testing and evaluating the performance of the sanitizers at the demonstration trials (microbiological analysis). Furthermore, POLYPAN GROUP SA will contribute to the exploitation and dissemination activities – in particular regarding the establishment of all necessary permissions and authorisations of the natural sanitizers for large-scale market introduction in the different target countries.